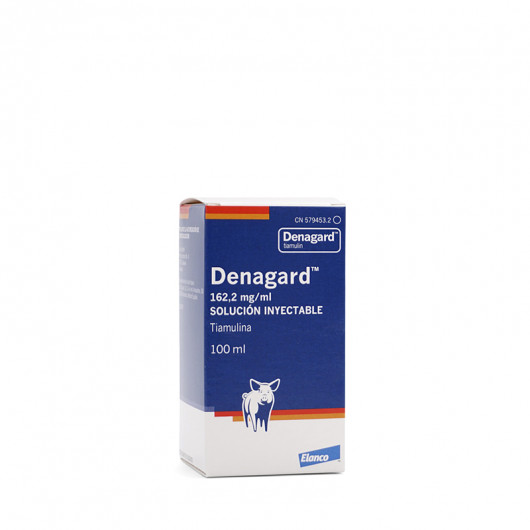 Denagard-20 100 cc.inj.
Antibiotic indicated for the treatment of infections caused by microorganisms sensitive to tiamulin in pigs. Treatment of swine dysentery (Brachyspira hyodysenteriae) and the complications caused by Fusobacterium spp. and Bacteroides spp, swine pleuropneumonia (Actinobacillus pleuropneumoniae, App), enzootic pneumonia (Mycoplasma hyopneumoniae), arthritis caused by Mycoplasma hyosynoviae. * See technical datasheet.
Active principles:

Thiamulin

Target species:

Porcine

Laboratory:

Elanco Gmbh

Prescription:

You need a prescription
Data sheet
Pharmaceutical form

Injectable solution

Administration routes

Intramuscular via

Dose *

1 a 1,5 ml / 20 kg p.v

Withdrawal period

Meat: 28 Days

Contraindications

Antibiotics polyeter ionophores
Do not use in case of hypersensitivity to the active substance / s or any excipient.
Do not use in case of known resistance to the active substance
* Doses taken from official sources
Veterinarian prescripcion it's needed
Any doubts?
Contactanos por teléfono, WhatsApp o email