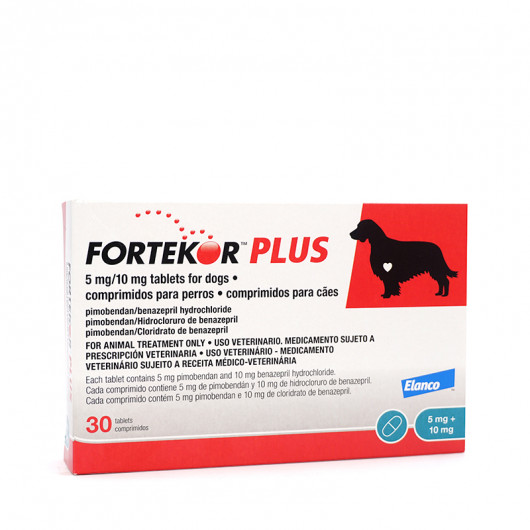 Fortekor plus 5/10 mg 30 tablet
ACE inhibitor drug indicated for the treatment of canine congestive heart failure caused by atrioventricular valve regurgitation or dilated cardiomyopathy in dogs.
Active principles:

Pimobendan
Benazepril hydrochloride

Target species:

Dogs

Laboratory:

Elanco Gmbh

Prescription:

You need a prescription
Data sheet
Pharmaceutical form

Tablet

Administration routes

Orally

Dose *

1 comrprimido / animal 20-40 kg / 12 h

Contraindications

Cardiomyopathy
Dehydration
Aortic stenosis
Pulmonary stenosis
Acute renal failure
Cardiac hypertrophy
Hyponatremia
Hypotension
Do not use in case of hypersensitivity to the active substance / s or any excipient.
Bitches in lactation
Pregnant bitches
* Doses taken from official sources
Veterinarian prescripcion it's needed
Any doubts?
Contactanos por teléfono, WhatsApp o email