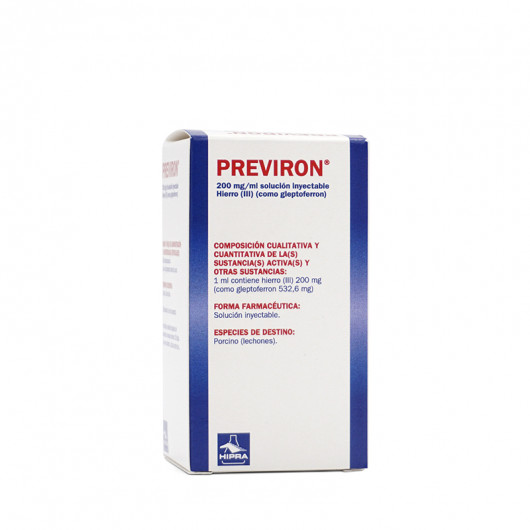 Previron 200mg 100 ml. inj.
Iron for the prevention of iron deficiency anemia in piglets.
Active principles:

Gleptoferron

Target species:

Piglets

Laboratory:

Laboratorios Hipra, S.A.

Prescription:

You need a prescription
Data sheet
Pharmaceutical form

Injectable solution

Administration routes

Intramuscular via

Dose *

1 ml/ animal

Withdrawal period

Meat: 0 Days

Contraindications

Sick animals
Selenium deficiency
Vitamin e deficiency
Diarrhea
Do not use in case of hypersensitivity to the active substance / s or any excipient.
Intravenously
* Doses taken from official sources
Veterinarian prescripcion it's needed
Any doubts?
Contactanos por teléfono, WhatsApp o email