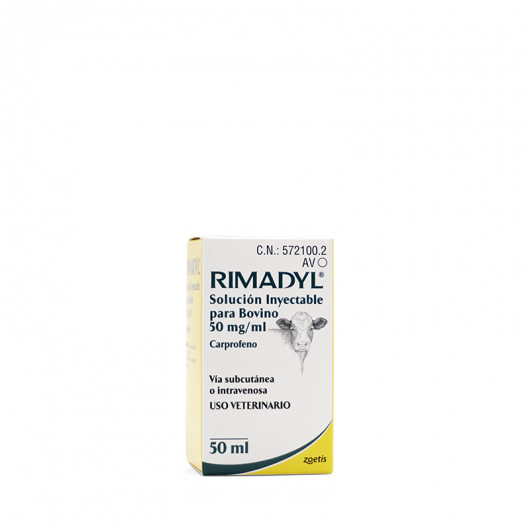 Rimadyl 50mg 50 ml.inj.
Anti-inflammatory indicated as a treatment associated with antimicrobial therapy, to reduce clinical signs in cases of acute mastitis and acute infectious respiratory disease in cattle.
Active principles:

Carprophene

Target species:

Bovine

Laboratory:

Zoetis Spain, S.L.

Prescription:

You need a prescription
Data sheet
Pharmaceutical form

Injectable solution

Administration routes

Intravenously
Subcutaneous via

Dose *

1.00 ml / 35 kg p.v.

Withdrawal period

Meat: 21 Days
b851125fa73ad493e13b0068bae7f9eadb811d25.name: 0 Hours

Contraindications

Cardiopathy
Blood dyscrasia us
Hemorrhage us
Liver failure
Renal insufficiency
Do not use in case of hypersensitivity to the active substance / s or any excipient.
Duodenal ulcer
Gastric ulcer
* Doses taken from official sources
Veterinarian prescripcion it's needed
Any doubts?
Contactanos por teléfono, WhatsApp o email