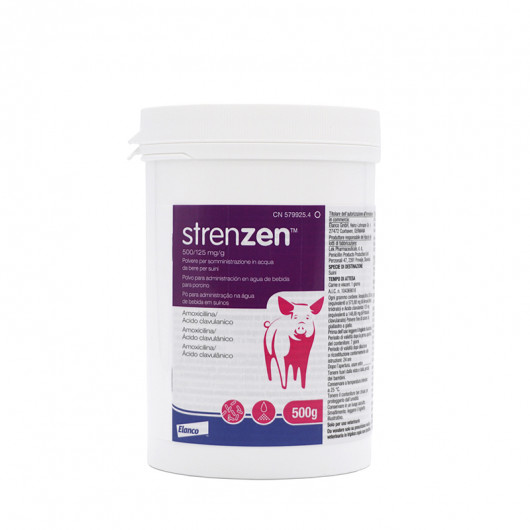 Strenzen-500/125mg 500 grs. sol.
Antibiotic indicated for the treatment of infections caused by bacterial strains sensitive to the Amoxicillin / Clavulanic Acid association. * See technical datasheet
Active principles:

Amoxicillin trihydrate
Potassium clavulanate

Target species:

Porcine

Laboratory:

Elanco Gmbh

Prescription:

You need a prescription
Data sheet
Pharmaceutical form

Powder for administration in drinking water

Administration routes

Drinking water administration

Dose *

2 g / 100 kg p.v./ 12 h

Withdrawal period

Meat: 1 Days

Contraindications

Betalactamics
Chinchillas
Guinea pigs
Rabbits
Hamsters
Gerbs
Do not use in case of hypersensitivity to the active substance / s or any excipient.
Do not use in case of known resistance to the active substance
Other small herbivores
* Doses taken from official sources
Veterinarian prescripcion it's needed
Any doubts?
Contactanos por teléfono, WhatsApp o email