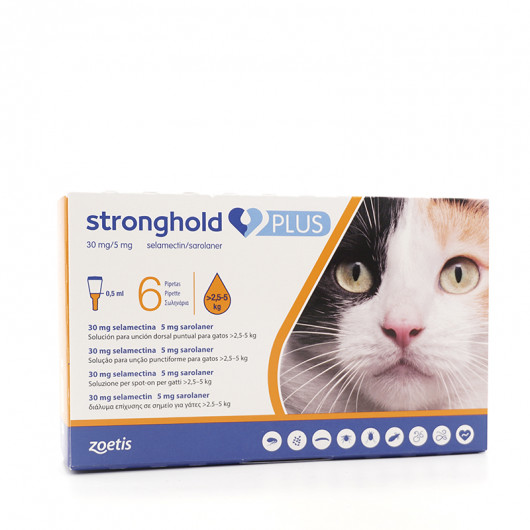 Stronghold cat plus 30/5mg.6 pip 2,5-5k
Antiparasitic for cats with, or at risk of, mixed parasitic infestations by ticks and fleas, lice, mites, gastrointestinal or filarial nematodes. The veterinary medicinal product is indicated exclusively when the use against ticks and one or more of the other target parasites is indicated at the same time. The product can be used as part of a treatment strategy for flea allergy dermatitis (FAD).
Active principles:

Target species:

Cats

Laboratory:

Zoetis Belgium Sa

Prescription:

You need a prescription
Data sheet
Pharmaceutical form

Solution for point dorsal anointing

Administration routes

Point dorsal anointing

Dose *

1 pipeta / gato

Contraindications

Sick animals
General weakness
Small cats
Do not use in case of hypersensitivity to the active substance / s or any excipient.
* Doses taken from official sources
Veterinarian prescripcion it's needed
Any doubts?
Contactanos por teléfono, WhatsApp o email