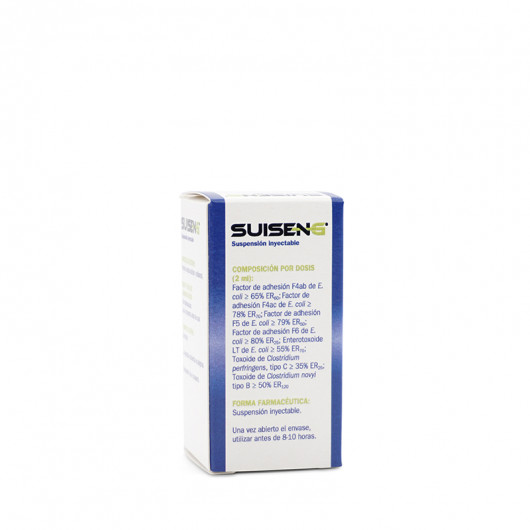 Suiseng 50 dosis inj.
Active vaccine for primiparous and multiparous sows and for passive immunization of piglets to prevent colibacillosis caused by E. Coli strains and against Clostridium novyi toxin α, type B.
Active principles:

Adhesion factor f4 ab (k88 ab) of e. coli
Adhesion factor f4 ac (k88 ac) of e. coli
Adhesion factor f5 (k99) of e. coli
Adhesion factor f6 (987p) of e. coli
Enterotoxoid lt of e. coli
Clostridium perfringens toxoid, type c
Clostridium novyi toxoid inactivated type b

Presentations:

Target species:

Porcine

Laboratory:

Laboratorios Hipra, S.A.

Prescription:

You need a prescription
Data sheet
Pharmaceutical form

Injectable suspension

Administration routes

Intramuscular via

Dose *

2 ml/ animal

Withdrawal period

Meat: 0 Days

Contraindications

Not described in the technical sheet
* Doses taken from official sources
Veterinarian prescripcion it's needed
Any doubts?
Contactanos por teléfono, WhatsApp o email