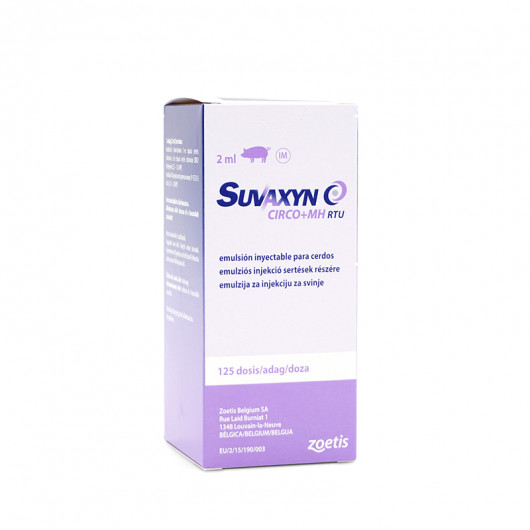 Suvaxyn circo+mh rtu 125 dosis inj.
Bivalent vaccine indicated for the active immunization of pigs (from 3 weeks of age) against Porcine Circovirus type 2 (PCV2) and against Mycoplasma hyopneumoniae.
Active principles:

Mycoplasma hyopneumoniae, inactivated, strain p-5722-3
Cvp type 1 inactivated recomb with protein orf2 cvp type 2

Target species:

Fattening pigs

Laboratory:

Zoetis Belgium Sa

Prescription:

You need a prescription
Data sheet
Pharmaceutical form

Injectable emulsion

Administration routes

Intramuscular via

Dose *

2 ml / animal

Withdrawal period

Meat: 0 Days

Contraindications

Lactating sows
Pregnant sows
* Doses taken from official sources
Veterinarian prescripcion it's needed
Any doubts?
Contactanos por teléfono, WhatsApp o email