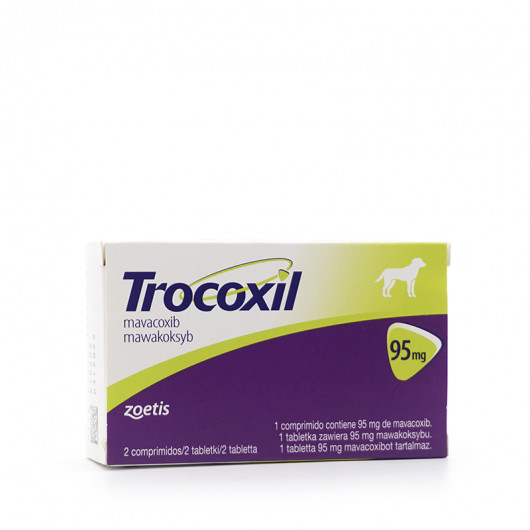 Trocoxil 95mg 2 cds
Non-steroidal anti-inflammatory drug (NSAID) of the coxib class. Indicated for the treatment of pain and inflammation associated with degenerative joint disease in dogs, in those cases in which continuous treatment that exceeds one month is indicated.
Active principles:

Mavacoxib

Target species:

Dogs

Laboratory:

Zoetis Belgium Sa

Prescription:

You need a prescription
Data sheet
Pharmaceutical form

Chewable tablet

Administration routes

Orally

Dose *

2.00 mg / kg p.v.

Contraindications

Non-steroid anti-inflammatory
Dehydration
Glucocorticoids
Hemorrhage us
Hypotension
Heart failure
Liver failure
Renal insufficiency
Do not use in case of hypersensitivity to the active substance / s or any excipient.
Bitches in lactation
Pregnant bitches
Reproductive female dogs
Dogs less than 12 months
Dogs less than 5 kg in live weight
Reproductive dogs
Duodenal ulcer
Gastric ulcer
* Doses taken from official sources
Veterinarian prescripcion it's needed
Any doubts?
Contactanos por teléfono, WhatsApp o email